WHEN: Sunday 17th March 2024
WHERE: University of Warwick Sports & Wellness Hub
The much-anticipated Look Good Feel Better Charity Netball Tournament is returning for it's 5th year on Sunday 17th March 2024 at University of Warwick Sports Hub. Working in partnership with England Netball to bring a tournament perfectly geared for teams of all abilities. This is a fantastic opportunity for like-minded teams from across the UK to battle it out on the courts whilst also raising funds and awareness for cancer support charity, Look Good Feel Better.
Ideal for clubs, newly set up 'Back to Netball' teams, mixed corporate teams and groups of friends – our netball tournament is the ideal action-packed day.  
REGISTER FOR JUST £35 PER PLAYER!
An incredible day of sport and entertainment which includes:
Coaching from England Netball professionals
Opportunity to play at a prestigious Commonwealth Venue
High quality game experience
Enjoy exceptional facilities at Warwick University
Play against over 30 teams from across the UK
Great competitive atmosphere
Receive a generous player goody bag worth £100
Incredible winners' prizes
Accommodation packages available for teams
Important Information:
Teams are a minimum of 7 players and a maximum of 10.
You can sign up as an individual and we'll match you with others to make up a full team.
Mixed and female-only teams welcome. We will have pools catering for all.
Players must be 16+ years of age.
Please read our full terms and conditions before registering.
We ask that all players registering for the tournament raise or donate £50 each for Look Good Feel Better to help towards funding our services for people living with cancer.
Teams of all abilities are welcome
Spectators are welcome to join us on the day for a £5 donation on entry.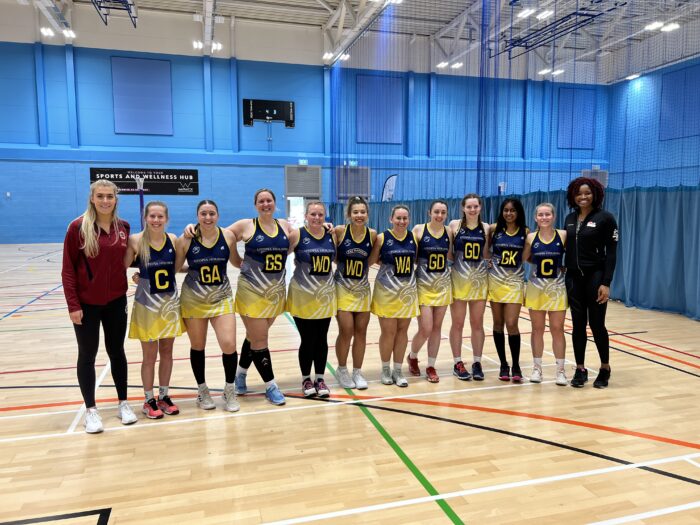 Meet & be coached by the England Roses!
In previous years, many of the stars of England Netball, including Ama Agbeze, Millie Sanders, Sasha Corbin, Kim Commane, Ella Clarke and George Fisher have joined our tournaments to share their pro tips and tricks to help ensure you get the most out of your game day experience. We will shortly confirm which professionals will be joining us for our 2024 tournament and you will have a chance to chat with the sports stars as well as grab a selfie or two!
---
FAQ's
How many games will there be?
Each team will have a minimum of 5 games on the day.
What time does the tournament start/ finish?
Player registration will open from 8.30am. All players must be checked in by 9.30am ready for the group warm up at 10am. The grand final should take place around 4pm with the awards and tournament finishing around 4.30pm. (Timings are subject to change)
Do I need to be really good at netball to play?
No, the tournament caters for all abilities but knowledge/ experience of the game is beneficial.
If we enter a mixed team, do we need a certain number of men/ women?
Mixed teams can have a maximum of 3 males on court at any one time, and a maximum of 1 male per court third.
Are there places to buy food or do we need to bring it with us?
You are welcome to bring food and drink into the venue with you however there is a Café Nero inside the Sports & Wellness Hub as well as variety of cafes and restaurants on the University Campus.