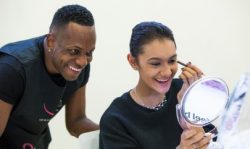 Would you like to have some fun and meet others going through the same as you?  Look Good Feel Better is here to help you!
We run a series of group workshops covering Skincare & Makeup, Hand & Nail Care and Men's Grooming all led by trained experts and lasting up to two hours.   Every session offers an opportunity to meet others in a similar situation, have a chat and ask questions.  It's a chance to focus on yourself and not your cancer. We aim for lots of learning and loads of laughter.
Click Here To Register Your Interest in a TYA Service
As part of our Young Adult programme we also work closely with our hospital teams and other charities like Young Lives vs Cancer, Shine Cancer Support, Teenage Cancer Trust, Teens Unite and Trekstock to offer special group sessions.
If you would like to have more information on these partnerships  or have any other questions please contact Dulcie Rowe [email protected]