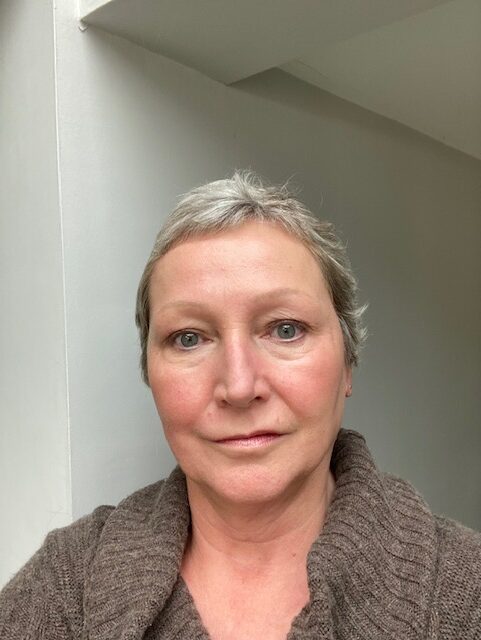 "Being among all these woman who looked just like me helped me so much"
October 6, 2022
Kate Wydra lives with her husband Steve near Horsham in West Sussex. As a fitness enthusiast, it was after one of her regular weekly swimming sessions that she discovered a lump in her breast. Instinctively, Kate knew something was wrong and she sought immediate help.
This was in September 2021. Breast cancer was diagnosed and, after a number of frustrating delays, the date for a mastectomy was set for days before Christmas.  This prompted Kate to opt for private treatment to ensure the surgery happened sooner.
She recalls:
"It was such a shock. When the diagnosis was confirmed, I felt like I had been hit by a truck. Throughout the treatment, I tried to keep a positive mind-set, and even went wig shopping with a dear friend, where we had a bit of a laugh.
"But ultimately, after the mastectomy and during the chemotherapy, I lost my hair, eyelashes and my eyebrows, and I felt totally disfigured.   I couldn't bear to look at myself in the mirror and I simply didn't feel like a woman anymore. I cried and cried."
It was a MacMillan nurse who recommended the workshops, and Kate signed up to the Skincare & Make up, Hand & Nail Care and Hairloss & Scalp Care sessions on-line.
Kate adds:
"The workshops came just at the right time. Just being among all these woman who looked just like me helped me so much. All the advice and tips were so useful, and the follow up bag of beauty products was of such a high quality.
"It was brilliant to be shown how to use make up to look and feel better again. Looking nice gave me such a boost at a very dark time. I am still using the techniques I learnt and I feel more feminine again. Keep up the good work, Look Good Feel Better."
Kate is now looking forward with optimism, enjoys weekly work out sessions with a personal trainer and takes her two dogs for long walks in the countryside.
Subscribe
Be the first to know about new services and upcoming events by joining our mailing list.