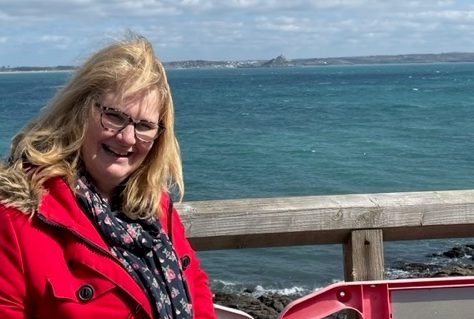 "The workshop setting felt so Safe and the two lovely ladies who led the session made us feel so important"
June 29, 2023
When you meet Emma Clarke, from Cornwall, you can't help but be drawn in by her optimism and positive energy. However, the last year has been very difficult for Emma. When she was diagnosed with breast cancer in October 2022, her life was turned upside down.
After receiving the news, Emma went into shock and while her feelings of anxiety grew, her mood plummeted.
The tumour was removed in November and Emma underwent radiotherapy early in 2023. What followed was terrible fatigue that affected her ability to carry on as before. Feeling extremely low and vulnerable, Emma sought support from a psychologist at The Cove Macmillan Cancer Support Centre in Truro, to help her cope through this extremely challenging time. It was this professional who recommended Emma should attend a Look Good Feel Better workshop. She thought about it, and decided: "Why not? I have nothing to lose…"
And Emma has not looked back: "Wow, it was absolutely amazing! It felt like a complete treat and totally changed how I felt. The workshop setting felt so safe, and the two lovely ladies who led the session made us feel so important. They showed us everything, from how to use cleansers, toners and moisturisers, to how to apply make-up to make you feel your best. It gave me such a lift and has had a lasting impact on my self-confidence.
"I now apply make-up every day and it just gives my self-confidence a daily boost. Others have commented on how well I look, which is lovely.
"What has also really helped me is that I have made some true friends during the workshop. There is a fundamental understanding and respect for each other which is invaluable and we continue to support each other along the way."
Emma, who works in secondary education as a food technology teacher, is looking forward to going back to work full time soon. Her lovely husband and three sons are now planning a truly fabulous fiftieth birthday celebration for Emma, and she is sure to look and feel amazing to mark this special occasion!
Subscribe
Be the first to know about new services and upcoming events by joining our mailing list.