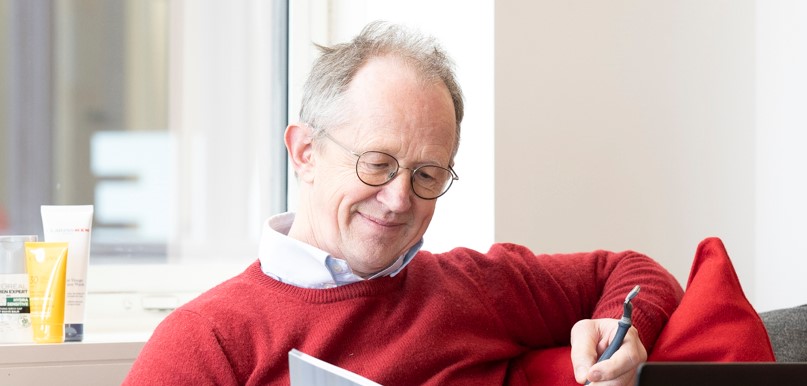 "When I was first diagnosed with bowel cancer, it was a shock, I am healthy and active. I am a keen cyclist and ride my bike a lot."
April 14, 2022
Gervase, 65, was diagnosed with bowel cancer in 2019. A year later, he was given the all clear just in time to celebrate Christmas with his wife Shirley and family at their home in Salisbury, which he said "was the best present."
"When I was first diagnosed with bowel cancer, it was a shock, I am healthy and active. I am a keen cyclist and ride my bike a lot."
After meeting with the surgical team to prepare for surgery, Gervase, who is a cabinet maker by trade, was asked if he had any holidays booked, in which he did, a cycle ride in Majorca.
Gervase said: "The nurse said that it would be great for me to go, she said you never know when you will be able to go again.
My surgeon was a very keen cyclist too and encouraged me to do the cycling holiday, because the fitter I was going into surgery, the better the recovery chances were."
Gervase spent ten days cycling in Majorca, finishing the trip with a 92-mile ride and over 5600 ft climb on day eleven. Two weeks later, he had surgery to remove the tumour.
"It was hard. I count myself lucky that I came out alright, but it was a hard journey.
I've always been a positive person and making sure my family were also positive through treatment, was essential. They were rooting for me."
During his recovery, Gervase attended a Look Good Feel Better Virtual Skincare and Grooming workshop in February 2021, during the Covid-19 lockdown.
The charity adapted its services during the pandemic to offer virtual workshops to ensure we were still able to support people living with cancer.
He said: "Once everybody was introduced, it felt almost like we were in the room together despite being on zoom. It was good to see so many men opening up in the workshop, sharing their experiences and troubles with what chemo does to you."
The men workshops offer advice on skincare and safe shaving, and an opportunity for men to ask questions and meet others in a similar situation. There are also often guest speakers within the wellbeing space.
Gervase said: "I had cancer support throughout my diagnosis and treatment and finding out about Look Good Feel Better was the icing on the cake.
I was never taught how to shave growing up, my dad always had a beard. My skin was much dryer following treatment, so it was great to learn."
Gervase added: "Men don't usually talk about these things. But I'd say to any man living with cancer, to not be afraid as you'll be amazed at what you get out of meeting with others. It's much easier when you share it with someone."
–
1 in 2 people will develop a form of cancer in their lifetime and we believe everyone should have access to our support whilst undergoing treatment. But we can't achieve this without your help. By taking part in Feel Better Month you will be helping ensure that many more women, men and teens undergoing treatment for cancer can benefit from Look Good Feel Better's workshops.
This year, Feel Better Month coincides with the Queen's Platinum Jubilee in June. Get together with friends, family, colleagues, or your local community and organise a street party, quiz night or coffee morning; it can be anything you fancy. There are so many ways to celebrate the Queen's Jubilee, whilst also raising vital funds for Look Good Feel Better.
Subscribe
Be the first to know about new services and upcoming events by joining our mailing list.